Whether you're new to business or have been in it for years, these seven questions will help you identify your ideal customer so you can understand how to best serve them.
The question I see again and again is: "How can I get more __ ?".
Insert customers, readers, subscribers, engagement, likes, comments, purchases...
Anything to do with growing your business.
I could spout off a strategy here and a new tool there.
But at the root of every marketing tip and trick is this: you have to talk to the right people!
Trying to show up at every brand touchpoint, every individual, will get you nowhere. You're bound to get lost in the noise.
And because I've heard it far too many times, let's address it here and now.
Focusing on your target audience and creating content specifically for them will NOT lose you customers. In fact, and from personal experience, deciding who I want to work with and for has only increased my sales.
So, without further ado, let's dive into all things ideal customer.
Let's connect with the right people so you can increase the impact you have on your customers.
Table of contents
What is an ideal customer in marketing?
In a perfect world, your ideal customer is the person you would clone, in order to work only with them:
1. They like you, your brand and your offerings.
2. they identify with your brand's message, values and mission.
3. they will become (if they aren't already) your brand ambassadors and enthusiastic advocates.
What is an ideal customer profile?
Your ideal customer profile describes the characteristics of that perfect person for you. It can cover everything from demographic information to what they're currently struggling with, to what they're Googling in relation to your offer.
Why can't you be for everyone?
It's easy to roll your eyes when you hear the words 'ideal client' and think, "That sounds great, but I'll be working with everyone, so it's not for me."
I understand the hesitation. In fact, almost every customer I work with tells me they want to work with Person A, then also Person B, and they can't forget Person C either.
Now think about how someone comes into contact with your brand. Think of the different points of contact they can have with it.
When you want to serve everyone, your experience can look like this:
Your website speaks to Person A, Person B and Person C, then your Instagram sometimes speaks to Person A and sometimes to Person B, and your email is in constant rotation to market to Person A, B and C. Your efforts are divided into thirds and you have to try to connect with each person consistently. Sounds exhausting, doesn't it?
Compare this to the scenario where you've clearly identified your ideal customer.
Your entire website is tailored to that specific person, your Instagram content speaks directly to them.
On top of that, every time and every e-mail you send is intentionally addressed to that specific person.
By having clarity on that perfect person for you, every brand touchpoint has the opportunity to serve a purpose and intentionally connect with, and deliver value for your ideal customer.
And when your whole brand is working together towards the same destination, I promise you'll get there with much greater ease and pleasure.
7 questions to ask to define your ideal customer
Have I convinced you of the importance of having an ideal customer? If you're giving me all the praise, it's time to dive into these seven questions that will help you identify that perfect ideal customer for you.
1. What do you do?
This may seem obvious to some entrepreneurs, but when I started out, my commercial offers were everywhere.
It's hard to define your target audience when you're not clear about what you actually provide?
So, I imagined meeting someone new and what my answer would be to the question, "What do you do?" If I couldn't answer that with clarity, I'd rework my answer until I could say something without stuttering and stumbling.
This "elevator pitch" process also led me to simplify my offering as much as possible and focus on my specialty.
My first answer to this question was something like, "I provide digital marketing, social media, branding and web design services for
online small business owners and local small businesses."
Today, I can clearly articulate what I do: "I'm a branding and website designer for service business owners." Do I still provide digital marketing services? Absolutely. But it's not what I want to focus on, and it's not what I need to say to attract my ideal client.
2. What was their life like before they started looking for you?
Now that you have a clear understanding of the services you provide and your area of expertise, it's time to start thinking about your ideal customer. What does their life and business currently look like, before they do business with you? What's a typical day like?
The aim is to understand how they currently operate in their business and life so that you can eventually speak directly to their pain points and find out what transformation you're able to provide.
Remember, for this exercise, you're simply thinking about what their current day-to-day looks like. Check out my example below to get your creative juices flowing 🙂
Social media manager example: My ideal client wakes up early and has a great workout. After breakfast and her first coffee, she sits down, ready to start posting on her social media channels. Since she has no ideas for the day, she starts browsing Facebook and, before she knows it, an hour has gone by. She decides to check her e-mails to make sure she's up to date, then goes to Pinterest to see if there's any inspiration. Two hours later, she goes back to her e-mails. She follows up with a customer and notices that a product order has been placed - great! She realizes it's time for lunch and promises to post on Instagram and Facebook after she's eaten....
3. What are their external problems?
Once you understand how they function in their daily lives, it's much easier to understand their struggles and pain points.
As in life, there are two sides to every problem, and when it comes to your ideal audience, those sides are internal and external.
First, let's look at your ideal customer's external problems. These are problems that others can see and that are externally oriented. For example, continuing with the social media manager: their ideal client's potential external problem could be an inconsistent Instagram feed that visually doesn't look consistent.
[[if you want to learn more about identifying internal and external problems, I highly recommend picking up Donald Miller 's "Building a Storybrand" and/or listening to his podcast. His work is mind-boggling!]]
4. What are their internal problems?
Now, in contrast to external problems, there are internal problems. These are thoughts, emotions and feelings linked to a problem or pain point.
Back to our social media manager's ideal client: they're probably bothered by visual inconsistencies on their Instagram feed. Or maybe they're worried about what others think of them because they don't post regularly and their images aren't high quality.
Donald Miller, the author I mentioned above, says it best: companies tend to sell solutions to external problems, but customers buy solutions to internal problems.
Being able to clearly identify and articulate your ideal customer's internal problems is what will help you build a strong relationship with your audience and trust within your community. Yes, it's important to understand and solve external problems because that's what the world can see. But solving internal problems is what builds connection and loyalty with your ideal customer.
5. What do they look for FIRST when they find you?
Okay, you've identified what they're struggling with, but how do you understand what they're looking for? Quite often, what your ideal customer is looking for and what they need are two different things. As an expert in your field, you know the correct jargon, language and terminology. However, your ideal customer isn't the expert, which means they probably don't use the same language as you.
For example, my ideal customer usually looks for a logo when they first come across my company. I know they need more than just a logo to create a strong visual brand, but it's not something that even enters their thought process.
And you know what? That's okay. Because it's not their job to know or understand - it's mine, as the expert.
6. Where does your ideal customer spend his time?
I don't know about you, but wasting time is not something I like to do. One of the biggest time suckers for a digital business owner? Social media. And even more so if you're spending time on a social channel that your ideal customer doesn't even like.
Now that you're well versed in your customer's problems, it's time to start talking to them for real. And that means being present where they are. If you love Instagram but your ideal customer doesn't spend their time browsing the 'Gram, it's time to focus your efforts elsewhere.
If you don't know where to start, think about where your former customers came from. Clearly, this method worked, so why not concentrate your efforts there?
For all new business owners, start simply. Choose a channel and stick with it for six months. If it doesn't do anything for your business, change tactics. But give it time to see if it really works or not.
7. What's holding them back?
Last but not least, what's stopping your ideal customer from taking action? What's holding them back from clicking that "buy now" button or scheduling that consultation? Understanding their hesitations or obstacles will help you address these issues in your messaging and remove these barriers for them.
For example, if price is a factor (which is very common), how can you justify the cost of your services? What transformation do you provide, and how does that outweigh the initial cost?
Or perhaps they've been burned in the past by a service provider and are now reluctant to trust anyone else. How can you build that trust with them? What kind of social proof can you provide to show that you are trustworthy and able to deliver?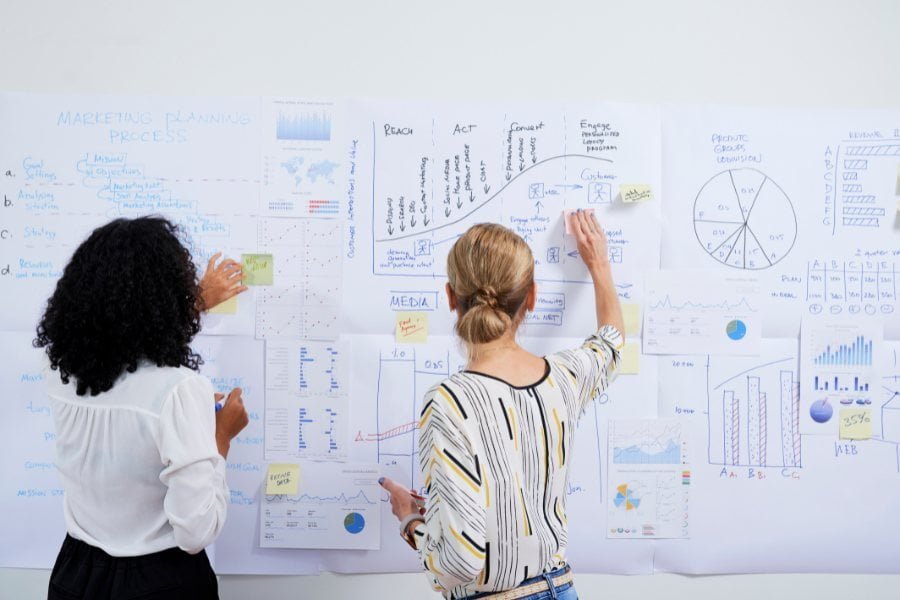 Conclusion
Identifying your ideal customer isn't something you do once, then forget about. It's a constantly evolving process and something you should return to frequently.
As your company evolves, so do your offerings and expertise. It's only natural that your ideal customer should evolve too.
By asking these seven questions, you'll begin to understand who that perfect person is for you, and how you can serve them better. And when you serve your customers in the best possible way, your business can only grow.
Need a little help?
Defining your ideal customer is often easier when done with an outsider.
We often have our noses too close to the drawing to get a more global view.

If you need help creating your ideal customer, contact us 😉.