You intend to create a website or start your own web design agency but you have no idea how much it could cost?
You have contacted several agencies or freelancers and you receive completely different prices?

This article is for you.
We will try to demystify the price of a showcase website in the most accurate way possible.

Ready to go?
Here we go!
The specifications
Before going into technical explanations, it is important to know the factors that could influence the creation time (and therefore the price) of a website:
1. How many pages do you need for your website? (home, about us, contact, services, one page per service...)
2. Does the website need to be translated into several languages?
3. Do you already have a logo and a visual identity?
4. Do you already have a web host and a domain name?
5. Do you have integrations with an online reservation system or other more complex integrations?
6. Do you have photos and text content for your website, or is the agency taking care of that?
The answers to these questions will strongly determine the final price of your website.
Hosting and domain name
For your website to be accessible it must be hosted on a server and you must have a domain name.
A classic hosting costs between 75€ and 125€ per year (and you will be able to install about fifty small WordPress sites or other).
Most of these hosts will offer you the domain name when you purchase the hosting.
Otherwise, a domain name costs about 7€ per year.

Beware, some agencies will offer to host the website on their servers.
In this case, you are not the owner of the website.
If the agency goes bankrupt, you run the risk of being left without your site, so be careful.
It's a bit like building a house on a neighbor's land.

In view of the prices of a host, it is not justified to host the site on a third party server.
We therefore advise you to buy your own server from Hostinger or O2switch, for example.

To get a 20% discount on your accommodation, you can use our affiliate link here: https://hostinger.com?REFERRALCODE=1PEDROSOARE21
Monthly subscription or one-time payment?
As for the hosting of your website, some agencies will offer you a monthly subscription to create your website.
Basically you pay between 99€ and 299€ per month, and in exchange you get a website.

As for hosting, if you pay a monthly subscription, the site does not belong to you, you are a tenant.

From the moment you stop paying your "rent", your site is no longer online.

We therefore advise you not to take this option, even if it seems more advantageous at first.

It is better to pay your website in one time and be the owner for life.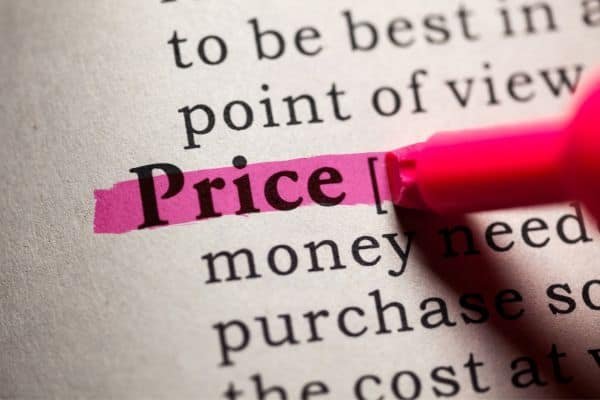 Recurring Fees
Some CMS (content management system) like WordPress need updates of their extensions, themes and others.

Therefore, if your website is created with WordPress, you may have to update your website yourself or pay an agency about 50 euros per month to do it.

It can happen that when an extension is updated, the website has errors and is no longer accessible.
It doesn't happen often, but... it can happen!

If you are not used to working with WordPress, we advise you to delegate this part to the agency or freelancer who is in charge of the website creation.
Use of pre-built themes or custom website?
Most CMS offer themes.

A theme is a pre-built website (examples available here: https://wpastra.com/starter-templates/)

A website using a theme will cost you significantly less than a custom website.

Why is this?

It's a bit like a pre-built or custom-made piece of furniture.
It does not require the same work and therefore not the same price.

For a pre-built showcase website it can cost you between 800€ and 5000€, depending on the answers to your questions in the introduction.
The price varies greatly, as the creation of a one page site in French will not be as complex as the creation of a 27 page site in 3 languages and with an online reservation system.

For a personalized website you will be between 10.000 and 20.000€ depending on the complexity.
Conclusion
If you opt for a pre-built website, it will cost you between 800 and 5000€ depending on the answers you have to the questions in our introduction.
If you opt for a custom made website, you will be looking at around 10.000€ depending on the agencies or freelancers you will work with.

Please note that these prices are indicative and do not constitute a fixed offer.

Each agency is also free to charge the prices they want, but be careful not to get ripped off!

Contact us for a more accurate quote on the creation of your showcase website.

See you soon,
Pedro