Just created a new post and want to quickly share it as a story on Instagram?
Stories are a great way to stay in close contact with your audience.
They are mostly used to show the daily life behind a brand or company.
Thanks to them you can reach your audience in a more personal and intimate way (not too much though).
Use them to show how your team works, birthdays, lunch breaks or whatever.
So, yes, you could take a screenshot of your post and then add it to your story, but there's more to it (and we'll explain it in this tutorial).
Learn how to share your Instagram post or publication in less than 30 seconds in this article.
Let's go!
How to publish your Instagram post as a story in 4 easy steps?
In this article, we will give you the 4 steps to share your Instagram post in your Instagram story.
Step 1 - open the Instagram app and go to your profile
Open the Instagram application (logical, isn't it?) and go to your profile by clicking on your icon or avatar at the bottom left of the screen
Step 2 - Choose the right post
Choose the post you want to share in your Instagram story and click on it to open it.
Step 3 - Click on the small plane
Then click on the small plane below the post you have chosen.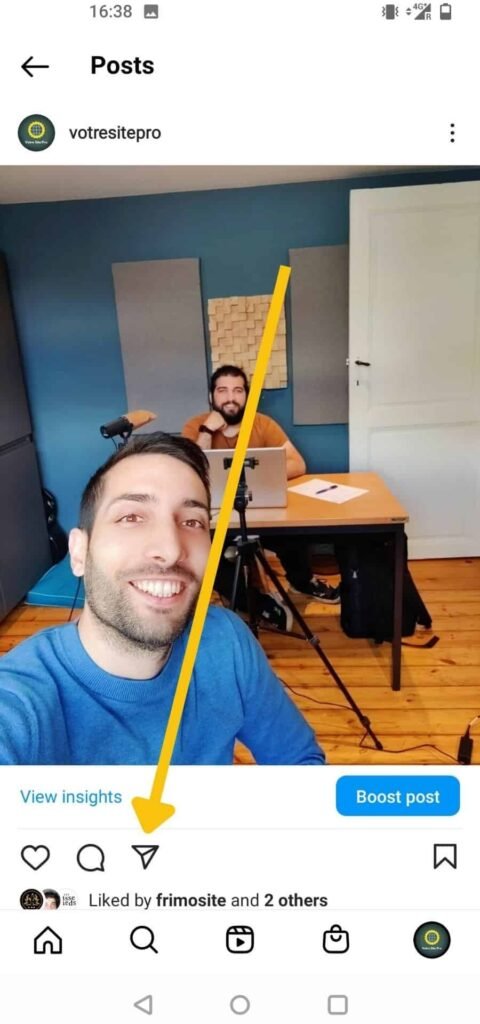 Step #4 - "Add the post to your story"
Then choose the option "add the post to your story".
Usually, this is the first option in the menu that appears below.
All that's left to do is personalize your Instagram story
Easy, isn't it?
You can then add music, a link, mention someone or whatever to your story.
Usually, we add a text over the story with "New Post!", so that our audience knows immediately what it's about.
But you could also take the opportunity to redirect them to your website or mention the person in that particular post with an "@"
If this article was helpful to you, subscribe to our Facebook page and Instagram account.
Facebook: https://www.facebook.com/VotreSiteProMarketingDigital
Instagram: https://www.instagram.com/votresitepro/

If you find it difficult to do it alone, send us a short direct message on any platform!

See you soon,
Pedro